SAVE OVER £26
The Origins Best-Selling Essentials
Active ingredient
Ginseng, Fermented Chaga, Charcoal, Avocado, Broad Leaf Kelp Extract
Best For
Detox, Purify, Glow, Hydration, Peel, Reduce Redness
Receive a Deluxe Travel Gift when you spend £45 or more
Use code: SANTA19
WORTH OVER £58, SAVE OVER £26, YOURS FOR ONLY £32 (SAVINGS OF 46%)

SET INCLUDES
Ginzing™ Energy-Boosting Gel Moisturiser 30ml
An oil-free, energy-boosting gel moisturizer formulated to help wake up dull, tired & lackluster skin with 72-hour hydration.

Ginzing™ Refreshing Eye Cream To Brighten And Depuff 5ml
A refreshing eye cream that visibly brightens the eye area by diminishing the appearance of dark circles and puffiness.

Clear Improvement™ Active Charcoal Mask to Clear Pores 15ml
Nature's complexion clean-up crew clears the way for skin to act its best. Bamboo Charcoal acts like a magnet to draw out deep-dwelling pore-cloggers, White China Clay absorbs environmental toxins, Lecithin dissolves impurities. Skin looks clear, feels perfectly pure.

Dr. Andrew Weil For Origin™ Mega-Mushroom Relief & Resilience Soothing Treatment Lotion 50ml
The step you never knew your skincare routine was missing. A light, soothing, watery lotion with Reishi, Sea Buckthorn & Fermented Chaga that perfectly preps just-cleansed skin for a serum & moisturiser. Alcohol-free and pH balanced.

Super Spot Remover™ Blemish Treatment Gel 10ml
A fast-acting spot treatment gel that quickly fights, fades and prevents blemishes.

Overnight Hydrating Mask With Avocado & Glacier Water Drink Up Intensive 15ml
Put extra thirsty skin to bed. This ultra-moisturizing sleeping mask instantly floods skin with moisture & keeps skin soft, smooth & happily hydrated for 72 hours.

Checks & Balances™ Frothy Face Wash 30ml
Our clever cleanser balances faces with dry and oily places. This gentle, frothy face wash with Broad Leaf Kelp Extract, Wheat Protein and Tourmaline discourages excess oil production while protecting dry prone zones. Plus the aroma of Bergamot, Spearmint and Lavender refreshes. Skin feels comfortably clean. Never tight, pulled or parched.

WHAT IT IS
An all-star lineup of our superstar skincare products - from a charcoal mask to a resurfacing cream - for the Origins lover on your list.

WHAT IT DOES
Joy to the skincare set that gives you the best of Origins for your best skin. Cleanse and refresh; visibly reduce redness; detox and purify; smooth and brighten; peel away dullness; and feel 72-hours of hydration.

FORMULATED WITHOUT
parabens, phthalates, sodium lauryl sulfate, propylene glycol, mineral oil, DEA,petrolatum, paraffin, polyethylene beads, formaldehyde & animal ingredients* *except cruelty-free honey & beeswax
Ginzing™ Energy-Boosting Gel Moisturiser 30ml
Following serum, apply liberally to skin day and night as a daily moisturiser, or as needed during the day as an instant skin refresher.

Ginzing™ Refreshing Eye Cream To Brighten And Depuff 5ml
Gently dab around eye area with fingertip in the A.M. or as needed.

Dr. Andrew Weil For Origin™ Mega-Mushroom Relief & Resilience Soothing Treatment Lotion 50ml
SHAKE it up to activate the formula.
POUR it into the palm of your hand.
PAT onto skin with fingertips or a cotton pad.
FEEL skin that's instantly refreshed and rebalanced.
Use AM and PM.

Checks & Balances™ Frothy Face Wash 30ml
Use AM and PM daily. Squeeze small amount into palm and add tepid water to lather. Swirl over skin, steering clear of eyes. Rinse thoroughly.

Super Spot Remover™ Blemish Treatment Gel 10ml
Cleanse the skin thoroughly. Apply a thin layer 1-3 times daily or as needed. If drying or peeling occurs, reduce application to 1 time a day.

Overnight Hydrating Mask With Avocado & Glacier Water Drink Up Intensive 15ml
Twice a week or as desired, gently massage onto clean skin at bedtime. Tissue off

Clear Improvement™ Active Charcoal Mask to Clear Pores 15ml
On makeup-free skin, open pores with warm, moist towel and layer mask on. Allow to dry and rinse. Use once a week or as often as needed.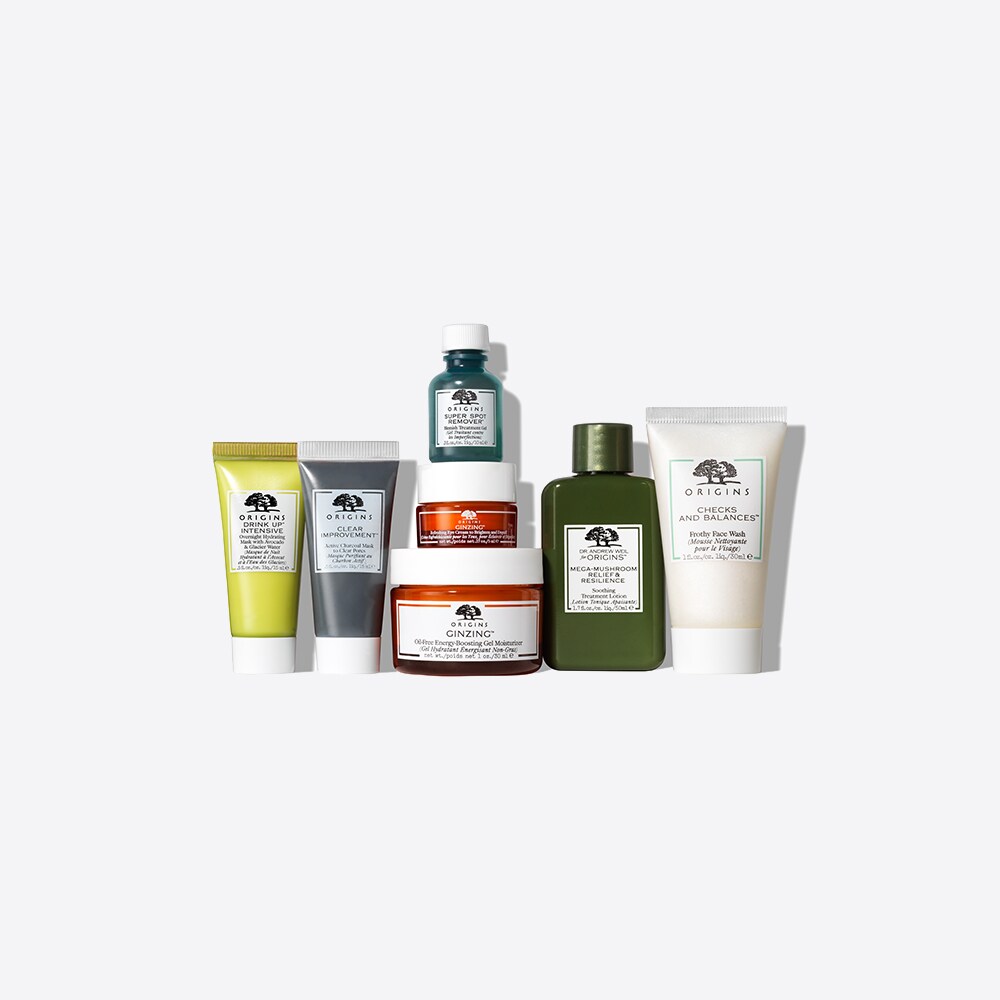 SAVE OVER £26
The Origins Best-Selling Essentials